Materials and sustainable handling of raw materials
What is the composition of our tube material?
Our laminated tubes are made up of a multiple-layered sleeve material (3-7 layers). Essentially, this composite is made up of PE layers in which a so-called aroma barrier is incorporated. The individual layers of the sleeve material are joined together by way of "lamination". This is the where the name used for this type of tube comes from. The barrier layer may be made up of different materials. The most frequently used barriers are EVOH and aluminium.
Laminates are also available without the barrier layers. At EPL Ltd. we currently process laminates in thicknesses between 250 µ and 400 µ and diameters ranging from 25 to 50 mm are offered. When making laminated tubes, printing is not applied to the finished cylindrical tube, but instead to a flat surface rolled onto endless rolls. Complex printed images are thus possible in a single operation.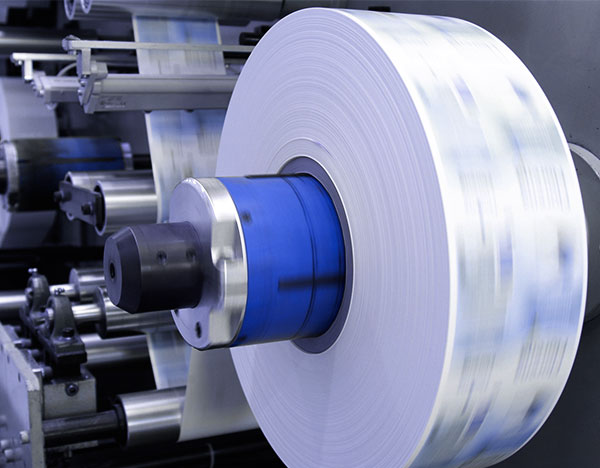 Plastic Barrier Laminate – PBL
PBL is a laminate which is aluminium free; that is to say, it is made completely of plastics. This laminate consists of multiple PE layers in which an EVOH barrier is incorporated to protect the contents. An important benefit of this aroma barrier is that it extends the lifetime of the contents. The standard material is usually offered in transparent or white. Special colour requests may also be developed with the help of ESSEL Propack.
Aluminium Barrier Laminate – ABL
ABL is a laminate which contains a small quantity of aluminium in addition to plastic. This laminate consists of multiple PE layers in which an aluminium barrier is incorporated to protect aggressive or reactive content. This results in a metallic tube (ABL silver) which does not crumple like conventional toothpaste tubes, but instead meets the requirements of high-quality cosmetics, among other products. The material thickness ensures greater durability of the tube contents.
Egnite™
Egnite™ is a high-gloss laminate which is available in a variety of colours. A material that provides a protective layer and resistant bounce-back properties helps the tube to maintain the form and colour whilst lending it a unique aesthetic effect, with a surface that shines to the extent that it is reflective. This unusual barrier (EVOH and MPET) is available in six high-gloss colours.
Customer-specific materials
These include in particular the materials/foils that lend the tube the appropriate effect. Whether it be a metallic, iridescent, holographic look and/or a specially coloured material, chosen at the request of the customer. We attempt to give the material a look that will make the product appear unique. We offer various barrier and web thicknesses for our customer-specific materials.
Material
Barrier
Thickness
Color
Bounce Back Effect
PBL
EVOH
300 µ / 15 µ/25 µ
300 µ / 25 µ
350 µ / 25 µ/15 µ
350 µ / 25 µ
400 µ / 15 µ
White
Transparent
White
Transparent
White / Transparent
high
ABL
Aluminum
250 µ / 12 µ
275 µ / 20 µ
350 µ / 12 µ
390 µ / 9 µ
White/ Silver
White / Silver
Silver
Silver
low
low
high
high
Sustainable handling of raw materials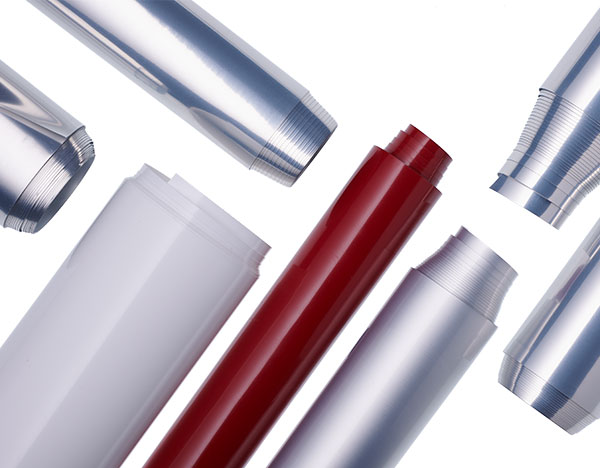 Post Consumer Recycling
ESSEL offers a PCR version, an own development by the ESSEL Propack group in which the intermediate layer is made using recycled plastic and is sandwiched between the inner OE layer (content contact layer) and the barrier layer.
Material savings thanks to alternative structure in laminate
The second option available for sustainable raw materials is the reduction of the overall material thickness. At ESSEL, this development is called "Titanium". This is a laminate manufactured completely from new plastic. Replacing individual PE layers made of LDPE with special HDPE foils can reduce the normal material thickness considerably, thus reducing the amount of material used. This version can be enhanced, for example, by the use of special lightweight caps created by some of our cap partners. The aluminium is embedded between multiple layers of PE. Aluminium offers the highest level of barrier protection and is thus particularly suited to very aggressive and reactive contents, such as depilatory or shaving creams, OTC products and perishable foods.
Green Maple Leaf™
Green Maple Leaf™ is a product for the production of recyclable laminate tubes. The recyclable laminate helps to reduce the carbon footprint, making it extremely eco-friendly and to keep the products fresh.Green Maple LeafTM is a proprietary development of Essel Propack and supports and strengthens Essels `Go Green` initiative for the environment and society. This material is especially well-suited for cosmetic, household and food products. Green Maple LeafTM tubes have the ability to retain their shape even after repeated use and product dispensation and are available in two specifications with custom theme printing.
Setting a new curve to packaging innovation, Green Maple Leaf™ is aimed at markets demanding sustainability by replacing EVOH tubes. It provides extraordinary product stability, shelf life properties, tube resilience and feel. Produced with fully recyclable thermoplastic polymers, Green Maple Leaf™ helps achieve the ultimate sustainability goal.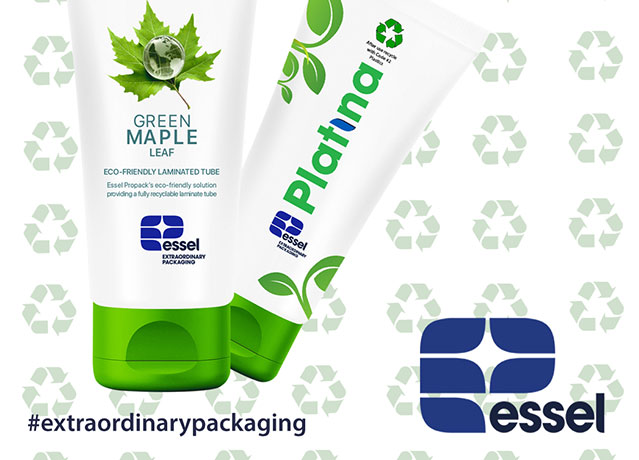 Platina™
Platina is an eco-friendly laminated tube designed in line with "RECYCLE" as the sustainability theme.
PLATINA 250 tubes with less than 5% barrier resin have got recognition from the Association of Plastics Recyclers (APR), USA, as meeting or exceeding the most strict APR HDPE CRITICAL GUIDANCE criteria.
Often the key challenge when developing recyclable tubes is that it also leads to compromises on the barrier properties limiting shelf life of the product. Our PLATINA range of HDPE tubes is designed to deliver source reduction and recyclability without losing on any of the functional properties of the tube. It provides extraordinary product stability, shelf life properties and a rich feel. It is especially suited for oral, toiletries and food products.
By reducing the packaging weight, PLATINA also helps in reducing the product's carbon footprint, making it the eco-friendly choice and helps in achieving your ultimate sustainability goal.