Versatile technology and highly qualified employees make for the best results
We make more of your packaging
Our printers are characterised by their technical knowledge, experience and a sixth sense for colours. They convert your ideas to the printed format as well as monitoring and controlling the entire printing process. Their responsibilities also include the set-up and maintenance of our specialised Swiss manufacturing lines.
The printing is carried out with photographic quality. In doing so, you can choose from flexographic, screen and letterpress printing. When it comes to digital printing, we work in conjunction with high performance print partners. In addition to the standard finish types (gloss and matt) different finishes can also be partially applied to an image, and special inks can be used. For example, these include inks with Iriodin pigments, or scented properties or with soft-touch surfaces. Our innovative procedures also include the application of Braille or Inviseam printing. Thanks to our internal graphics department, we are able to ensure a flexible and rapid procedure as well as personal consultation regarding the development and realisation of your products.
We are happy to face any challenge and pay attention to even the smallest of details. We are true to the "nothing is impossible" motto, and like to think of ourselves as our customer's "wish-maker".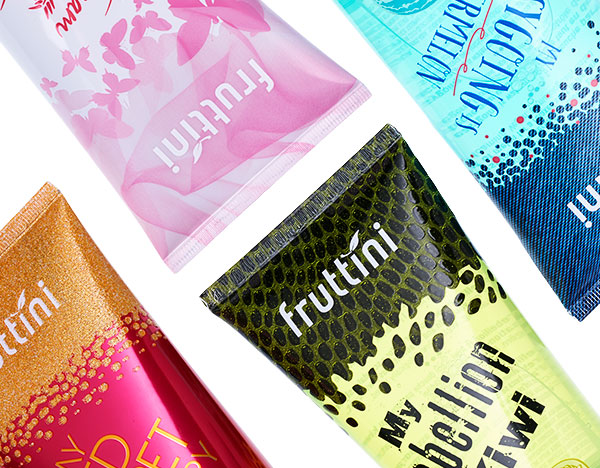 Flexographic printing
Our flexographic printing capacities can use up to 10 print stations and, alongside colours and finishes (gloss, matt, semi matt) we are also able to offer cold and hot film embossing as well as screen printing.
Letterpress
When it comes to letterpress printing, we work with up to 6 colours + varnish (gloss or matt). This simple printing procedure also offers the opportunity for photo-printing (CMYK) and is slightly cheaper compared to flexographic printing.
Use our service offer

Technical basics
Data files: AI / EPS / INDD / FH / PSD / TIFF
Color definition: Pantone, HKS, Euroskala (CMYK)
Letterpress
CTF (Computer to Film)
Maximum number of colours:
6 colours + UV coating + hot film embossing + food-safe dyes are possible
UV coating:
Shiny or matte
endless or partial
Rastering:
Raster point format: Approximately
133 lines per inch
min. 3% - 100% 133 lines
per inch
Minimum font size:
Positive: 4 pt; Negative: 5 pt
Embossing: 6 pt; Negative: 5 pt
Minimum line thickness:
Positive: 0.2 mm,
Negative: 0.3 mm
Positive embossing: 0,5 mm,
Negative embossing: 0,8 mm
Fit tolerance:
0,3 mm colour to colour
0,5 mm embossing to colour
Tactile markers/colour/size):
Colour: Black,
other colours available on request
3 x 8 mm (horizontal)
3 x 7 mm (vertical)
EAN/PZN code:
Minimum size SC 01 (for ISO standard SC 02)

Data transfer
The data processing is carried out via open data of the programs Adobe Illustrator and Adobe InDesign or via normed PDF files. In addition to the open data, please always send a PDF. All fonts and images to be used in the layout must be supplied in a separate folder. It is possible to convert the text in paths, but if this is the case, our graphics team is not able to carry out changes.
The finished print data can be sent in the following ways:
Email:
grafik@essel-deutschland.de – Maximum size 5 MB (only packed/StuffIt/WinZip)
FTP:
ftp.essel-filetransfer.de – Maximum size 999 MB (StuffIt)
Via Browser:
Use drag and drop to transfer to the open browser window.
Via ftp software:
User name: ftp, Password: Your email address
Important information: Anonymous FTP server – once the upload is completed you will not be able to see the data! This ensures that third-parties are not able to view the information.
Upload to www.essel-filetransfer.de:
An account will be provided via support@essel-deutschland.de. Here, you can upload and download data, set up or change projects, write notes and much more.